Vision sales predicted to grow 20 per cent in 2011: EMVA conference reveals market survey data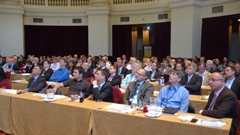 The machine vision industry will continue to grow in 2011 following an impressive year in 2010, according to results from the latest market report from the European Machine Vision Association (EMVA). The EMVA market survey predicts 20 per cent growth in European vision turnover for 2011.
Data from the report showed that European turnover in 2010 was at €1.29bn up 34.8 per cent over 2009. The biggest contributor to the total was vision systems, but cameras exhibited the most growth at 61 per cent.
Gabriele Jansen, a member of the EMVA executive committee, presented some of the findings of the report at the EMVA business conference, held in Amsterdam on 13-14 May. Along with the data, she indicated there was an overall improvement in sentiment among industry managers among the 225 European companies surveyed, and greater trust that the 2010 recovery will be maintained.
Jansen also quoted data from the VDMA, which predicts an 11 per cent increase in turnover in the German machine vision market, and that from the International Federation of Robotics (IFR), which, Jansen argued, could be linked to machine vision, and which forecasts a 20 per cent growth for 2012.
The market study also has a special focus on machine vision in France, the French vision market being the second largest in Europe with a 2010 turnover of €405.8m. Christophe Moreau, managing director of Stemmer Imaging France, highlighted some potential growth areas in 2011/2012 in the French market including applications surrounding augmented reality, traceability, multispectral imaging in areas like food and recycling, 3D imaging for robotics, and high-speed scanning. In terms of vision companies, the French market, he said, has only a small number of international players but a large number of vision integrators.
Service robotics – robots that work in close cooperation with humans – is a growing area as highlighted by Dr Claus Risager and Dr Anders Petersen of the Danish Institute of Technology in their presentation at the conference. The institute has developed a number of robotics projects including those for folding hospital towels, a type of bin picking application in which the robot has to recognise the object in its hand to know how to fold it.
The institute is also investigating the effects of a cuddly 'toy' robotic seal called Paro on patients suffering from dementia in nursing homes. Paro was developed in Japan and responds to touch, movement and sound. Through its research, the institute has found that Paro had a positive effect on 20 per cent of dementia patients.
Risager did concede that one of the downsides to service robotics in general is their cost – Paro was more than 10 years in development at a cost of $10m and now retails at around €4,600 – but said that decreases in cost will be in part a result of the lower cost of sensors and components.
Elsewhere during the conference, Dick Goudriaan of DVC discussed the machine vision market in the Benelux region, Rui Gomes da Silva of Incogna GIS highlighted the potential of cloud computing for machine vision, and Professor Ramesh Raskar at MIT detailed some of his projects involving computational imaging.
In addition, Rick van de Zedde from Wageningen University in The Netherlands detailed some of the agricultural projects underway at the university using vision, including automated weeding, high-throughput plant phenotyping in genetic studies, and 3D image reconstruction of tomato seedlings to sort plants according to specific features relevant to growers. This particular system is comprised of 10 cameras to reconstruct a 3D model of the tomato plant at a rate of 20,000 seedlings per hour.
The EMVA business conference is an annual event held at a different location throughout Europe.