AIA, EMVA, JIIA sign cooperative standards accord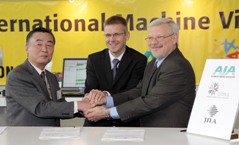 Leaders from the Automated Imaging Association (AIA), European Machine Vision Association (EMVA), and Japan Industrial Imaging Association (JIIA) have signed an agreement to cooperatively develop and promote global machine vision standards. The agreement was signed during the machine vision trade fair, Vision 2009, in Stuttgart on 3 November and will ultimately aim to stimulate growth in the machine vision market through standard development and promotion.
Standards development is important, because it makes machine vision technology easier to use throughout the world. Up to this point, each association has developed industry standards on its own – the AIA handling GigE Vision and Camera Link and the EMVA focusing on 1288 and GenICam. These legacy standards will remain in place. However, in the future, if the associations agree on an issue needing standardisation, a lead association will develop the standard and the group will mutually promote the result as a global industry standard. If there is no consensus on the global need of a standard, each association retains the right to develop standards outside the cooperative group.
'This accord will benefit machine vision users and suppliers alike by accelerating the pace of standards development, avoiding overlapping efforts, and creating more awareness of new standards,' said Jeff Burnstein, president of AIA.
Burnstein hopes the agreement will harmonise annual statistical collection programmes so that the industry can chart its performance in all major markets, as well as cooperating on marketing efforts to help spread the message of the benefits of machine vision technology. 'There are companies throughout the world that would benefit from applying machine vision who are unaware of what is successfully being done with vision technology. Each of our associations attempts to spread the message on a daily basis, but we can do even more by working together, especially in areas of the world that are just beginning to invest in machine vision.'
Representatives from the three trade groups said they hope to add leaders from other associations in the future as new groups emerge to represent the growing machine vision industry in countries such as China and India. 'The more voices we have promoting machine vision, the better it is for our industry and for companies who should be taking advantage of vision, but are not yet doing so,' commented Burnstein.
Patrick Schwarzkopf, EMVA general secretary, stated: 'This new cooperation in the field of machine vision standards development will play a decisive role in promoting machine vision technology in all markets. It will increase the global information flow during the standards development process and help the standards to become established internationally.'
'We've worked diligently since JIIA first proposed this idea to prepare a global standardisation process that will benefit the industry,' said Shigeo Oka, Chairman of JIIA. 'It is especially rewarding that this agreement is now signed. We congratulate all of the machine vision players and look forward to further cooperation.'
Machine vision, which accounts for more than $5bn in annual sales worldwide, is a critical technology for users in industries such as automotive, electronics, food and beverage, lab automation, pharmaceuticals, and security. New markets are rapidly developing in areas such as medical imaging, energy, entertainment, and other non-manufacturing sectors. AIA, EMVA and JIIA believe that new standards can help stimulate the growth of machine vision sales.