Live panel webinar: robotics and 3D vision, 30 Nov, 3pm GMT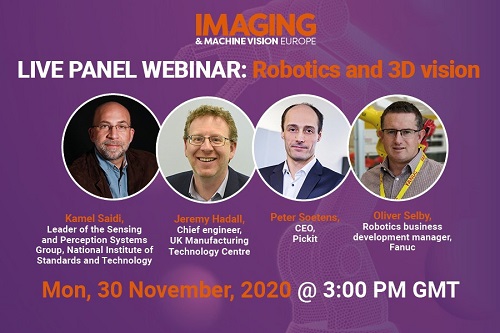 Robot automation has huge benefits for manufacturing, which has been emphasised to some extent during the pandemic. The vision technology used to guide industrial robots can achieve excellent results, but is machine vision reaching its full potential? We've gathered a panel of experts to ask how vision can help advance robot automation and improve uptake of robotics in manufacturing.
It will be an interactive panel discussion, where your comments and questions will be welcome. There will be an opportunity to put your questions to the panel on the day, but if you have questions in advance, please email them to Greg Blackman at greg.blackman@europascience.com.
The panellists are:
Kamel Saidi, leader of the Sensing and Perception Systems Group, National Institute of Standards and Technology
Jeremy Hadall, chief engineer, UK Manufacturing Technology Centre
Peter Soetens, CEO, Pickit
Oliver Selby, robotics business development manager, Fanuc
Moderator: Greg Blackman, editor, Imaging and Machine Vision Europe