Live panel webinar: AI in machine vision, 3 Dec, 2pm GMT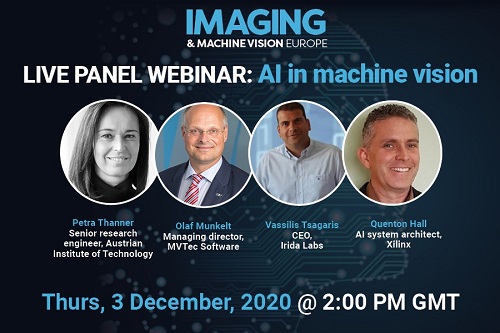 Neural networks hold the potential to revolutionise factory automation. But when should you use them, and how do you get the best out of them for building machine vision systems? We've gathered a panel of experts to discuss the latest advances in neural network-based approaches to vision applications, and to give advice on what engineers should focus on to develop a successful AI vision project.
It will be an interactive panel discussion, where your comments and questions will be welcome. There will be an opportunity to put your questions to the panel on the day, but if you have questions in advance, please email them to Greg Blackman at greg.blackman@europascience.com.
The panellists are:
Petra Thanner, senior research engineer, Austrian Institute of Technology
Olaf Munkelt, managing director, MVTec Software
Vassilis Tsagaris, CEO, Irida Labs
Quenton Hall, AI system architect, Xilinx
Moderator: Warren Clark, publisher, Europa Science