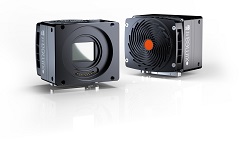 Ximea will have several of its new product lines on display at Vision. 
The xiC camera line features Sony's CMOS sensors, a USB3 interface and resolutions from 2.3 to 12.4 megapixels. Type-C connectors are also possible.
New models have been added to the xiB PCI express series, with one offering an approximately 50 megapixel CMOS sensor operating at 30 fps, with no requirements for a framegrabber. Also included in the series is the PCI Express Gen3 camera, which is able to stream 64 Gbit/s to get a 12 megapixel CMOS sensor to more than 300 fps. Lastly, a model offering one megapixel at around 3500 fps and HD resolution at 2000 fps will also be shown.
The xiJ scientific grade camera line offers CCD sensors such as the KAI-08052 at resolutions from 4 to potentially 47 megapixels. The cameras provide a USB3 interface with a Type-C connector, as well as very high sensitivity and exposure time. Cooling options are also available with these cameras.
The new xiSwitch that will be on display is a special OEM/custom board that allows users to connect many different camera types and synchronously stream 64 Gbit/s of data from them directly to a PC.