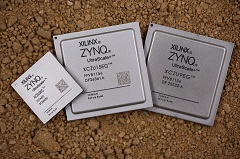 In response to the growing demand for systems that can be integrated into the smart factories, Xilinx is launching intelligent camera software at the trade fair. Using the software, rather than transmitting just image data, cameras will output finished inspection results. 
Xilinx will also be displaying an embedded vision computer with NXP's flagship Arm processor, combining a 10 GigE camera interface, I/O, encoder and LED controller, field bus interfaces with a 2GHz eight-core Arm A72 architecture processor.
The company will, in addition, demonstrate how sensor fusion can be achieved with high levels of freedom due to freely programmable systems. Homogeneous applications such as heterogeneous sensor fusion, stereovision or multi-camera surround views are supported by Xilinx in a single system. Highlights the show will include the company's new Trust Zone, encryption systems and anti-tampering functions for embedded vision incorporated on a single chip.