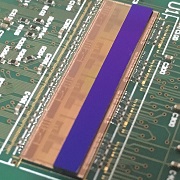 Xenics' latest addition to its Xlin detectors, the Xlin-FC series, will be presented at its booth. 
The Xlin-FC series are the company's latest line scan SWIR InGaAs detectors, using flip-chip type hybridisation. Two high-speed detector types will be available, the Xlin-FC R with rectangular pixels for spectroscopy applications, and the Xlin-FC SQ with square pixels for machine vision.
The detectors operate in low illumination conditions thanks to a new high-sensitivity read-out integrated circuit. The InGaAs photodetectors also exhibit a high QE in the 900nm to 1,700nm wavelength range.
The detectors come in different resolutions: 512, 1,024 or 2,048 pixels. Fast in-line inspection is guaranteed with a line rate of up to 400kHz, for all three resolutions.