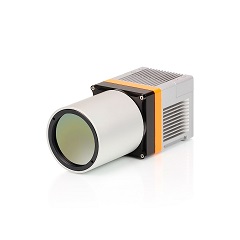 Xenics will be exhibiting both its Serval-640-GigE Thermography camera and its SWIR InGaAs Bobcat-640 camera at the show.
The Serval-640-GigE Thermography is a rugged uncooled LWIR camera designed for thermography and thermal imaging in harsh industrial environments. It is equipped with an uncooled microbolometer (a-Si) detector with a resolution of 640 x 480 pixels and has a pixel pitch of 17µm and a thermal sensitivity (NETD) of 55mK. The camera comes with radiometric calibrations that allow the user to measure temperatures in the ranges: -20°C to 120°C, 50°C to 400°C, 300°C to 1,200°C and 1,000°C to 2,000°C.
Also displayed will be the Bobcat-640 SWIR camera, a small industrial SWIR camera with InGaAs detector for machine vision and high temperature process control. The Bobcat-640 comes in a compact form factor of just 55 x 55 x 72mm for the Camera Link version and 55 x 55 x 82mm for a small GigE Vision interface. It offers an excellent low noise and low-dark-current performance and is suited to high speed imaging at full 640 x 512 resolution with frame rates up to 100Hz.