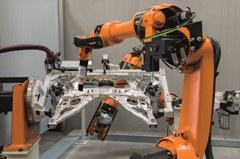 Vitronic (B5.300) will display various systems for optical surface inspection, as well as the Vrio WSI weld seam inspection system.
On show will be an advanced internal inspection sensor, a new addition to the Vinspec family of sensors for automotive production. The sensor is used to inspect interior walls of cylinders that are not easily accessible; it can capture data for different processing planes across the entire surface.
The company will also showcase Vinspec 3D Inline, a solution for examining surfaces and geometric deviations on castings during the production cycle. Furthermore, a 3D inspection solution for looking at the surfaces of small components, such as bearing blocks in engines, will be presented.
All inspection results are sent to an integrated database for documentation and archiving. This results in optimised production processes, reduced costs, and consistent quality.
Finally, Vitronic will highlight how optical inspection systems can provide information for reworking stations. Defects identified by the system can be displayed at the station showing different views of the test part, a feature that significantly speeds up reworking.