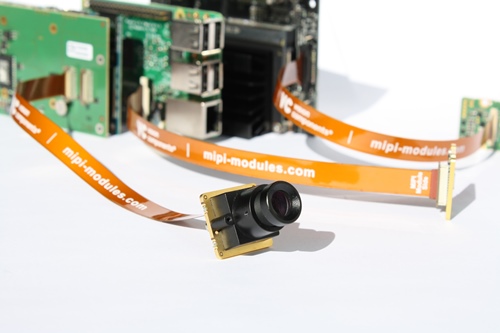 Vision Components (booth 2360) will present its extended range of camera modules with a MIPI CSI-2 interface.
The company has integrated non-native MIPI sensors in MIPI camera modules, using a specially developed adapter board. Examples for these are IMX250 and IMX252 sensors from the Sony Pregius series, which are characterised by high light sensitivity and low dark noise. These components enable compact, repeatable OEM designs and easy connection of image sensors to more than 20 single-board computers, including Nvidia Jetson, DragonBoard, all Raspberry Pi boards, and all 96Boards.
Vision Components now offers 10 different image sensors with resolutions up to 13 megapixels for its MIPI camera boards. Photonics West showcases include a demo application with a VC MIPI camera module connected to a Raspberry Pi.
The manufacturer's Linux-based, freely programmable embedded vision systems will also be on display. These cameras and 3D line sensors integrate a Xilinx Zynq SoC. New quad-core embedded cameras provide a performance boost thanks to the onboard Snapdragon 410 processor: 1.2GHz clock rate, 1GB RAM, and 16GB flash memory. In addition to various built-in interfaces like GigE and 12 GPIOs, this board camera is available with optional extension boards that enable easy addition of an SD card slot and more interfaces: serial interface, I²C, RS232, DSI, RJ45 Ethernet adapter, and power interface.