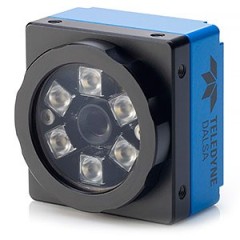 Teledyne Dalsa will feature its new Boa Spot ID advanced barcode reader and latest innovations in thermal imaging at Automate 2017.
The company offers a comprehensive portfolio of vision systems and sensors bundled with ready-to-deploy application software for the factory floor.
On display will be the Boa2 XA vision systems, designed for applications that require high image resolution and performance. Well suited for precision part measuring and defect detection, the systems can inspect large parts and large surface areas, reducing the number of sensors and overall cost of deployment.
The Boa Spot ID combines 1D/2D code reading with OCR and verification tools for a number of product identification and verification applications, including quality control, traceability and logistics management, and product validation. These vision sensors can decode 1D barcodes with bar widths and spacing down to 1.5 pixels, and 2D matrix codes with cell or dot sizes down to 2 pixels.
Teledyne Dalsa will also preview its new Calibir GX series of long wave infrared (LWIR) cameras. Compact and lightweight, the GX series delivers outstanding imaging and radiometric output, and adaptive contrast enhancements ideal for non-destructive, non-invasive automated inspection applications.
In addition, Jean Brunelle, sensor lead for infrared technology at Teledyne Dalsa, will present on LWIR imaging at the AIA's technology conference, which takes place on 5 April from 15:00 to 17:00.