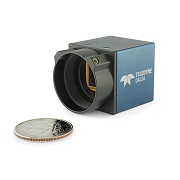 Teledyne Dalsa will showcase its newest innovations, including an LWIR camera, a colour CMOS TDI camera, and a polarisation line scan camera.
Calibir is Teledyne Dalsa's small, low-power, LWIR camera platform. This microbolometer-based platform covers wavelengths from 8-14μm and supports a variety of camera interfaces, lenses, and onboard processing features.
The company's Piranha XL colour line scan cameras are built around Teledyne Dalsa's advanced multiline CMOS TDI colour image sensor, and deliver quality colour imaging with high speed, resolution, responsivity, and low noise. 
The polarisation line scan cameras incorporate an advanced CMOS image sensor with quad linear architecture. Spatial correction enables line scan polarisation to detect birefringence, stress, surface roughness and physical properties like geometry and surface area.