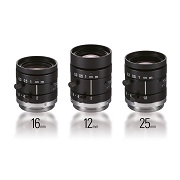 Tamron will present its five megapixel M112FM series of lenses. The super-compact lenses have been developed for C-mount cameras with large 1/1.2-inch sensors, like the IMX174/IMX249. They deliver excellent optical performance with no vignetting, and reach 3.45µm pixel pitch resolution.
The M112FM series consists of seven fix-focal lenses, with three lenses being already available: 12mm, 16mm, and 25mm. Four additional lenses, from wide-angle to telephoto, will be announced soon.
The three lenses on display at Vision feature a focus range of 0.1m to infinity, with the recommended shooting distance being 0.3m. In combination with their super-compact body (max. Ø29mm lens barrel), they are ideal for applications like factory automation and agriculture that require high precision imaging solutions. Thanks to the aperture range of F/2.0 to F/16 (12mm, 16mm) or F/1.8 to F/16 (25mm), the lenses are suitable for low light imaging.