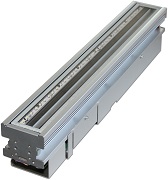 Mitsubishi Electric's new high-speed contact image sensor (CIS) offers a compact, distortion-free alternative to line scan cameras. It will be featured on the Stemmer Imaging stand and supported by Mitsubishi Electric representatives at the show.
The sensor is distributed under the name Mitsubishi Electric Line Scan Bar. Offering high quality, distortion-free image acquisition right up to the edges of the material, the new CIS scans surfaces at speeds up to 1,000 metres per minute, in a compact and easy to install format.
The CIS offers an ideal alternative to line scan cameras for inspecting defects on flat surfaces. It is simple to install and held in place directly above the surface of interest at a fixed height, with all LED illumination and optics built in.
Typical application areas for the CIS include print and thin film production industries, where it can be used to detect surface defects on paper, plastics, fabrics, banknotes and even holograms. The CIS is available in a range of widths that match the most common sizes. The CIS can also be used for surface inspection of wood, glass and other materials.
www.eu3a.mitsubishielectric.com