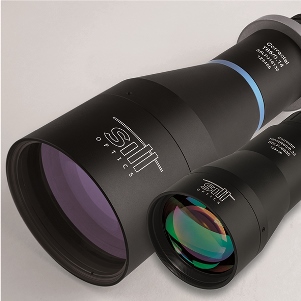 Sill Optics (booth 1266) will present telecentric lenses for machine vision. In 2019, Sill started producing lenses for the waveband 900nm to 1,700nm, including its first telecentric SWIR lens. The company has extended this product range with an additional telecentric and a standard SWIR lens for a sensor size up to 25.6mm and a pixel size down to 10µm.
Imaging technology now requires optics for larger sensors and smaller pixel sizes. Sill launched telecentric lenses for an image diagonal of up to 24mm and pixel sizes down to 3.45µm and 2.76µm, suitable for new Sony IMX sensors with 12- to 20-megapixel resolution, for example.
Furthermore, Sill Optics has reworked its bi-telecentric lens portfolio for line sensors and now offers lenses for line scan and area scan imaging with an extended image diagonal of up to 82mm and a pixel size of 5µm.