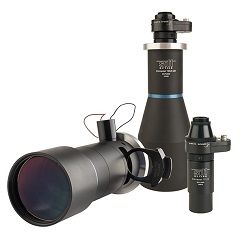 Sill Optics' telecentric lenses for applications beyond standard metrology setups will be on display.
Telecentric measurements provide high precision, constant magnification and low distortion, even for objects with a certain depth. Telecentric coaxial illumination through a lens also improves surface texture evaluation.
Telecentric lenses with integrated focus tuneable lenses enable a variable working distance and z-scan. Moreover, the telecentric imaging of a tilted object plane results in considerably lower distortion.