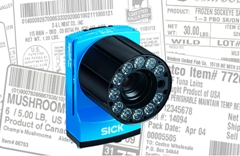 Sick will highlight its AppSpace programming environment and show how the concept is starting to bear fruit for automation and robotics development.
AppSpace is an open software platform that allows customisation of applications on Sick programmable sensors and devices. Rather than being restricted to proprietary software, AppSpace enables system integrators, OEMs and end-users to develop their own solutions.
Visitors to the UKIVA show will learn about applications being developed in AppSpace that are now available for wider industry use. The first is the Sick LabelChecker, a label reading and verification solution based on Sick's InspectorP vision sensor. Sick engineers perfected the application working closely with a European chocolate manufacturer. The solution is based on the InspectorP camera for reading and verifying text, numbers, barcodes and 2D codes, as well as inspecting label design and print quality.
Sick will also promote its Inspector PIM60 URCap, an entry-level vision-guided robot solution for pick-and-place, inspection and measurement. It integrates Inspector PIM60 2D vision sensors with U3, U5 and U10 robots. The Inspector PIM60 URCap is a powerful toolkit for creating a vision-guided robot task with minimum time and effort.
The company will introduce its Trispector P Beltpick solution for enhanced picking of products on a conveyor through integrated 3D vision robot guidance. The solution offers support for ABB PickMaster and Universal Robots, and provides users with access to AppSpace apps for belt picking applications.