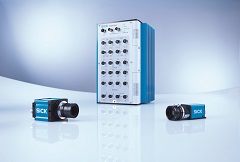 Sick will be launching its new open software platform, Sick AppSpace, which can be used to develop and implement application solutions on the company's programmable devices. Sick AppSpace provides users with the flexibility to exploit Sick's growing range of smart vision systems and intelligent sensors. 
The new Sick SIM4000 sensor integration machine will also be exhibited, a high-performance, one-box, multicore processor that can integrate multiple cameras and sensors together with powerful image processing. 
Additionally, the Inspector P, Sick's first fully user-programmable range of 2D vision cameras with all the performance and flexibility needed for critical duties in verification, inspection and quality control, will be on display.
Lastly, the company will showcase its Visionary 3D camera, which uses 'snapshot 3D' technology to provide a robust solution for industrial applications that benefit from having 3D data delivered in one shot, for example obstacle recognition, collision warning systems or pallet handling applications.