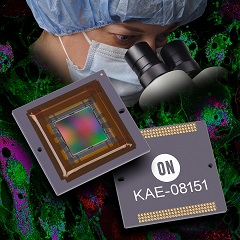 On Semiconductor (booth 5464) will be demonstrating its latest products, including the Python family of CMOS image sensors, such as the 25 megapixel Python 25k, which is being widely adopted due to its high speed, outstanding image quality, and low noise performance.
The KAE-08151 image sensor also being exhibited extends the low-light performance of On Semiconductor's Interline Transfer EMCCD technology to eight megapixels. New cooled package configurations for both the KAE-0851 and KAE-02150 devices simplify the work needed to bring cameras using these devices to market. 
On Semiconductor is a supplier of CCD and CMOS image sensors for mainstream consumer, automotive, and industrial applications such as machine vision, security, and medical imaging. It supplies high performance devices in a variety of pixel sizes, resolutions, and optical formats for demanding imaging applications.