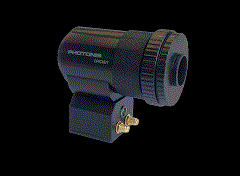 Photonis plans to introduce the Cricket, a simple optical coupling device designed to enable any scientific camera to become an intensified camera. As a plug-and-play complete housing, the Cricket includes an image intensifier, power supply and optical coupling to preserve correct image alignment. Intensified images are ready to be captured after connecting the Cricket to an existing camera via C-mount connections, connecting the power supply and adjusting the focus.
The unit can be ordered with custom image intensifier configurations for your application, including phosphor screens, MCP configurations, Hi-QE photocathodes, fast gating (internal or external), and optics.
Ideal for physics, FLIM and plasma research, the Cricket supports 1µlux sensitivity or single photon counting with gating options down to 3ns.