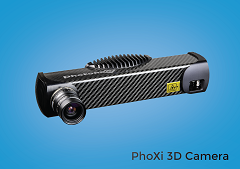 Photoneo (1I45) will showcase its newly launched PhoXi 3D camera for scanning in rapid motion, at high resolution and high accuracy.
The company will show three exhibits with PhoXi 3D scanners: AI-based quality inspection; automated 3D model creation; and AI-driven AnyPick, for picking almost any type of objects from 1 x 1cm, with a large depth of field, ambient light suppression, and 300-500 picks per hour, ideal for e-commerce and logistics.
In addition, Photoneo's CEO Jan Zizka will hold a presentation on the PhoXi 3D camera at stage two, 1A75, on 7 November at 9:30 am.