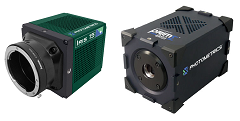 Photometrics is set to present its Prime BSI and Iris 15 scientific CMOS cameras at the show.
The Prime BSI delivers the perfect balance between high resolution imaging and sensitivity thanks to its optimised pixel design with 95 per cent quantum efficiency to maximise signal detection.
This 4.2-megapixel camera with 6.5μm pixels captures highly detailed images at frame rates of 47fps at 16 bits and 94fps at 12 bits. The Prime BSI also delivers a 100 per cent pixel fill factor and does not rely on micro-lensing technology to increase detection, resulting in a 30 per cent increase in sensitivity over previous sCMOS cameras. The camera also offers 1.1e- read noise, 45,000e- pixel full well and 41,000:1 dynamic range.
Primary applications of the Prime BSI include TIRF microscopy, light sheet microscopy, cell motility and ratiometric imaging.
The Iris 15 is designed with a large field of view for live cell microscopy applications. Its 15-megapixel sensor and 25mm field of view provide extremely high-resolution images over a large area. It also offers acquisition speeds over 30fps, ensuring dynamic cellular events are properly captured and documented.
The camera has a 4.25 x 4.25µm pixel area, which meets the requirements for Nyquist spatial sampling at 40 times magnification, as well as high sensitivity, with a 73 per cent quantum efficiency and low noise levels.
Primary applications of the Iris 15 include, among others, light sheet microscopy, multi-colour fluorescence, tissue and cellular imaging, and clinical diagnostics.