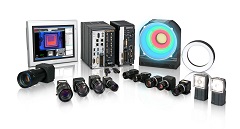 Omron (1F80) will exhibit its portfolio of machine vision solutions, ranging from components, smart cameras and machine vision systems, to complete embedded solutions.
Through targeted acquisitions and development, Omron has made significant advances in the field of machine vision, including cameras and algorithms from Omron Sentech, the Omron Microscan identification solutions, and image processing developed for robot guidance.
On display will be the FH-V7 series, a modular product range for optical quality control. The camera system is equipped with multi-direction and multi-colour lighting, which is also new from Omron. This system allows software-controlled adjustment of illumination: angle, colour and intensity.
Omron offers individual components using application-specific designs to complete factory automation systems.