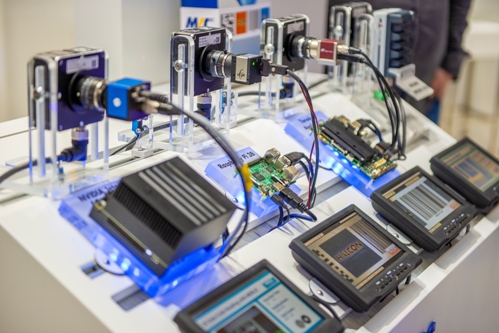 MVTec Software (4-203) will focus on its latest software releases, Halcon 18.11 and Merlic 4, when it exhibits at the trade fair.
MVTec will demonstrate which deep learning technologies can be used in embedded vision systems. Visitors to the booth will also find out why investing in professional machine vision software pays off.
The company will display a multi-platform live demonstration, where four embedded boards will perform different tasks using Halcon and Merlic. Other platforms that are compatible with MVTec software will be showcased offline.
The HPeek benchmarking demo program will be shown using a Raspberry Pi. In another demo, MVTec will present four standard examples of deep learning machine vision technologies in parallel – semantic segmentation, object detection, classification, and optical character recognition (OCR) – all run on an Nvidia Xavier board.
A final demonstration will cover the ways in which Merlic can be used to detect and inspect different objects based on the example of medical test tubes.
On 26 February from 2:30pm to 3:00pm, Christoph Wagner, product manager for embedded vision, will give a presentation entitled: 'Deep learning versus rule-based-configurable vision software on embedded devices'.