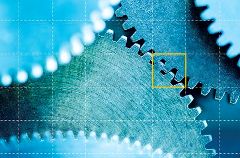 MVTec Software will be showing its general purpose machine vision software Halcon, along with its all-in-one machine vision software product Merlic.
Halcon is optimised for the needs of OEMs and system integrators, and enables engineers to set up their own solutions for a specific machine vision task. Merlic enables users to build complete solutions quickly without programming.
In addition, MVTec's Adriano Biocchi will present during the software and embedded vision seminar. The talk will cover topics including embedded vision, 3D technologies, the Industrial Internet of Things or Industry 4.0, and deep learning.