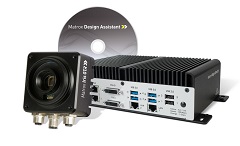 Matrox Imaging will demonstrate container integrity and marking inspection projects created using a new version of the Matrox Design Assistant flowchart-based vision software. The projects will run on the new Matrox Iris GTR smart camera, as well as the Matrox 4Sight GPm vision controller with two additional cameras.
Matrox Design Assistant is a hardware-independent integrated development environment (IDE). It lets users create an application flowchart and HMI to take machine vision projects from concept to completion quickly, without the need for conventional programming.
Matrox Iris GTR is an IP67-rated camera measuring 75 x 75 x 54mm, allowing it to fit into tight and dirty spaces. It uses On Semiconductor Python CMOS image sensors with high readout rates and an Intel Celeron dual-core embedded processor, which allows it to inspect on fast moving production lines or perform more inspections in an allotted time.
Matrox 4Sight GPm is a vision controller featuring a combination of embedded PC technology, compact size and ruggedness, making it an ideal solution for cost-sensitive image analysis and machine vision applications.
In a second demonstration, the latest version of Matrox Imaging Library vision software and add-ons will be paired with the Radient eV-CXP CoaXPress frame grabber to create and analyse high-quality 3D profiles of an industrial component.