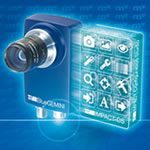 Matrix Vision will present camera models based on Sony Pregius sensors with up to 12 megapixel resolution, and Gigabit Ethernet, Dual Gigabit Ethernet and USB 3.0 interfaces.
Furthermore, the 3D/6D modular perception camera, the MvBlueSirius, will be on display. Inspired by human vision the camera determines position, location, and movement of known objects in space. Logistics and automotive users will benefit from this reliable and fast system.
In addition, the company will present the intuitive smart camera MvBlueGemini. This camera makes it possible for end users and system integrators to implement applications more efficiently. Applications can be solved without programming because the camera covers all basic image processing functions.
Finally, Matrix Vision will introduce a standalone PC version of the MvImpact Configuration Studio (MvImpact-CS), the software core of the MvBlueGemini.