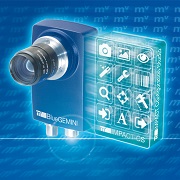 Matrix Vision will show its current USB 3.0, GigE and dual-GigE camera families, each integrated with Sony's latest, more economical versions of its Pregius sensor range, which offer reduced frame rates and resolutions of 9 and 12 megapixels. 
The perception camera mvBlueSirius will also be on display. The multi-camera optical system perceives the 3D location, the speed and the direction of travel of objects in its field of view. The characteristics and fundamental principles of the product are based on the interactions between the human eye and the brain. 
The mvImpact Configuration Studio allows users to get started in industrial image processing thanks to its intuitive and simple operation concept. Used in conjunction with the mvBlueGemini smart camera, users without programming expertise and developers without image-processing knowledge can implement complete inspection tasks visually, quickly and cost-efficiently. New features such as the measure tool are offered in release 1.3 of the software.