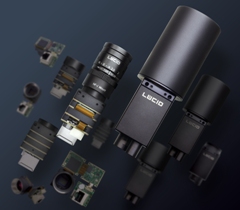 Lucid Vision Labs will showcase live demonstrations of its latest GigE Vision camera technologies. These include four different models of Phoenix, a small GigE PoE camera ranging from 3.2-megapixel to 12.3-megapixel resolutions. With a unique board design, the Phoenix camera has a compact and lightweight form factor, making it easy to integrate into OEM products and systems. Optional NF-mount lenses and an Ix Industrial connector further reduce the camera's overall footprint. The cameras are based on Sony Pregius CMOS sensors.
Also on display will be the Triton IP67 camera, featuring a dustproof and water-resistant enclosure and lens tube. The cameras are designed to be used in a variety of industrial environments such as food inspection and agriculture where dust, dirt or water can be present. Triton measures 29 x 29mm and has a threaded outer lens barrel for fitting an IP67 lens tube.
Finally, Lucid's new Phoenix polarisation camera will be on display. It features Sony's IMX250MZR CMOS polarised sensor. The 5-megapixel global shutter sensor, with a pixel size of 3.45µm and frame rates of up to 24fps, is based on the IMX250 Sony Pregius CMOS mono sensor with a polarising filter added to the pixel. The sensor has four different directional polarising filters - 0°, 90°, 45°, and 135° - on every four pixels. Phoenix performs on-camera processing using the four directional filters, and outputs both the intensity and polarised angle of each image pixel.
Torsten Wiesinger, general manager, EMEA at the company, will give a presentation at the conference about polarisation imaging on 12 April at 10:45am.