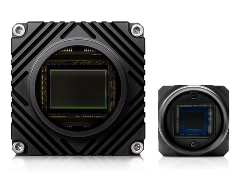 Lucid (booth 4427) will showcase its latest GigE Vision cameras and time-of-flight (ToF) technology. Product highlights will include the Triton camera, which sets a new price performance standard in the industrial camera market. A compact 29 x 29mm size, M12/M8 connectors and IP67 protection make the Triton camera suitable for any environment. The series offers models ranging from 0.4 megapixels to 20 megapixels, including a model with the 5-megapixel Sony IMX250MZR/MYR polarised sensor, and 12.3-megapixel IMX304 and 20-megapixel IMX183 sensors.
The Atlas is a 5GBase-T power over Ethernet (PoE) camera capable of 600MB/s over standard Ethernet cables up to 100 metres in length. The first models include the 31.4-megapixel Sony IMX342 APS-C format global shutter CMOS, the 19.6-megapixel IMX367 and 16.8-megapixel IMX387 sensors.
Finally, the Helios ToF camera, featuring Sony's DepthSense MX556PLR back-illuminated ToF image sensor with high NIR sensitivity, 10μm pixel size and high modulation contrast ratio, will also be on display.