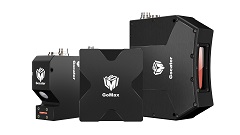 At this year's show, LMI Technologies (1C14) will unveil three 3D inspection products. Firstly, a new series of smart 3D line profilers with scanning down to 8µm X resolution, 0.2µm Z repeatability. The profilers offer complete inspection cycles – scan, measurement, and control – at up to 10kHz, all onboard the sensor with no external controllers.
Secondly, the newest member of the LMI snapshot sensor family delivers scanning at 5µm XY resolution and 0.2µm Z repeatability. This technology allows customers to move from traditional laser profiling solutions to a stationary inspection design that reduces cost and complexity.
Finally, LMI's vision accelerator is a compact, plug-and-play device. It is a cost-effective solution for adding massive GPU-driven data processing power to any Gocator 3D smart sensor in order to meet inline production speed, without the need for an industrial PC.