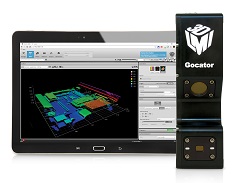 LMI Technologies will be showing its Gocator 2400 series, the latest addition to the Gocator products of smart, all-in-one 3D line profilers.
The Gocator 2400 series is a new line of 3D smart sensors optimised for specific industries. The first two models in the series, the Gocator 2410 and 2420, are blue-laser profiling sensors designed for electronics and small parts inspection. These high line profile sensors provide an X resolution of 6µm, along with highly repeatable results, down to 0.2µm in height.
Twice the speed as the Gocator 2300 series (400-5,000Hz with windowing), the 2410 and 2420 sensors double the possible resolution of scan data in the direction of travel. In addition, because the sensors use a blue laser to create profiles, data around the edge of specular targets is cleaner, which is crucial for electronics and small part feature recognition.
The Gocator 2410 and 2420 come in a revised IP67 industrial housing with web-based user setup, built-in 3D visualisation, and drag-and-drop measurement tools.