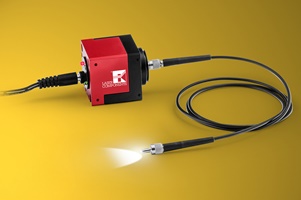 Laser Components (booth 449) will be displaying the Albalux FM white light laser module. The fibre-guided illumination source provides a continuous-wave luminous flux of more than 150 lumens. The light is suitable for endoscopy, surgical headlamps, and 3D image processing.
In addition to brightness, the module gives precise beam guidance, sharp beam edges, and has low power consumption. The compact housing contains specially developed electronics for safe control of the light source.
Albalux FM is based on laser light technology from SLD Laser. Two semi-polar blue GaN laser diodes (450nm) illuminate a phosphorus chip, producing a brilliant, incoherent white light that is ten times brighter than white LEDs. The Albalux FM with fibre output is only the first model in a range of products.