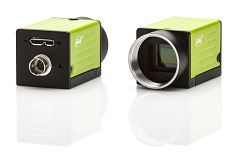 JAI will display its latest camera offerings, including both its area scan and line scan models.
Three new models will be shown from the company's Go Series of small and durable industrial cameras, which are ideal for robotics, UAVs, and many other applications. The recently announced GO-2400-USB offers 2.35 megapixels at 159fps over USB3 Vision, the GO-5101-PMCL delivers 5.1 megapixels at 35.6fps over a Camera Link interface, and the new GO-5100-USB provides 5.1 megapixels at 74fps over a USB3 Vision interface. All models feature low-noise Sony Pregius CMOS imagers for excellent image quality and dynamic range.
Line scan users can see a demonstration of JAI's new Sweep SW-4000M-PMCL monochrome line scan camera, which offers 4K resolution, line rates up to 200kHz, and a sensor design with two user-selectable pixel well sizes. An 8K, 100kHz model and several prism-based colour models will also be displayed.