IDS Imaging Development Systems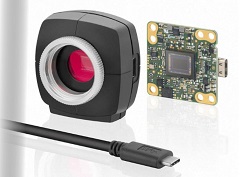 IDS Imaging Development Systems is focusing on embedded vision and the new USB3.1 standard. Its technical seminars on the benefits offered by USB 3.1 Gen1 cameras and the capabilities of embedded vision systems will be complemented by practical demonstrations on the exhibition stand.
Rapid prototyping of embedded vision systems using an IDS camera, Raspberry Pi3 board and embedded software will be demonstrated. Also on show will be the new USB 3.1 Gen 1 uEye LE series of cameras, available in both board-level and housed versions, with a choice of four sensors offering resolutions from 0.5 to 6 megapixels. Featuring USB 3.1 Gen 1 connectivity using the versatile Type-C connector, the cameras provide hardware support for 12W power delivery. 
There will also be an opportunity to see the new Ensenso X 3D camera system with a 100W projector. Two 1.3 megapixel cameras mounted at different distances allow a range of working distances and angles for image capture of larger objects, such as whole pallets or entire rooms.