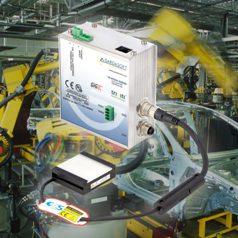 Gardasoft will be showing a range of controllers that help automate industrial inspection using machine vision. This includes LED lighting controllers such as the new TR-HT high power and the TR100 board-level controllers, as well as the TR-CL series of single channel industrial lens controllers.
The TR-CL series provides very accurate and repeatable control of Optotune EL-10-30 and EL-16-40 focus-tunable lenses. Also on show will be Gardasoft's versatile Triniti intelligent lighting platform, which can provide complete integration of lighting, camera, lens and image processing control through a single software interface.
Accurate, repeatable and precise control of LED illumination is an essential requirement for getting accurate, repeatable and precise measurements in both fixed and robot-based machine vision systems. Triniti's sophisticated lighting control capabilities range from automatic compensation for changes in light intensity to the programmed triggering of single or multiple lights at differing intensities and durations – essential for making rapid multiple measurements, especially in robot applications.
The TR100 is a fully functional, board-level LED controller aimed at OEMs with high volume requirements. This controller provides the flexibility to be adapted by OEMs that wish to incorporate automated machine vision into their own systems.
The TR-HT series offer exceptionally high power LED lighting control for machine vision applications. With two independent output channels, each rated at 150W and each capable of driving 50A in pulsed mode and 5A in continuous mode, these latest models are ideally suited to driving high power LED area and LED bar lights.