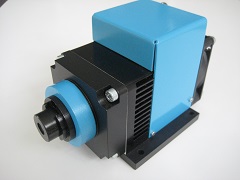 Frankfurt Laser Company (booth 2400) will be exhibiting its HEML Series laser modules, which deliver high output power for industrial applications in harsh environments. The lasers are ideal for the alignment of sheets in steel mills, railway inspection, and quality control in roof tile production.
The company delivers high power line laser modules with output powers of up to 1W. The offered wavelengths range from 450nm (blue), 532nm (green) and 660nm (red), up to 1,064nm (infrared). The lines have a sharp rectangular shape with homogenous power distribution. Other beam shapes are available such as grids, circles, dots or line arrays. The modules' focus can be adjusted by the user.
TTL modulation up to 1MHz and analogue modulation up to 10kHz are available as an option. As an additional alternative, the laser modules can be offered with 100µm core diameter optical fibre. Other core diameters are available on request. The power stability is less than one per cent over a period of two hours and within the temperature range of 0°C to 40°C.