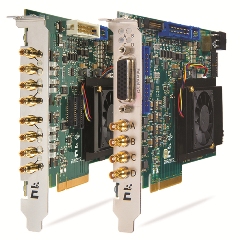 On show at Euresys (B5.110H) will be a live demo of its new Coaxlink Octo frame grabber, as well as present its Coaxlink CXP-12 frame grabber. The Coaxlink Octo is an eight-connection CXP-6 board;iIt supports up to eight cameras on a single frame grabber. The Coaxlink CXP-12 board is a four-connection CXP-12 frame grabber.
Both boards support camera data transfer rates of up to 5GB/s. Equipped with a PCIe Gen 3 x8 bus, the boards offer a peak delivery bandwidth of 7.8GB/s. The effective delivery bandwidth is 6.7GB/s. They are also compatible with the company's Memento Event Logging Tool.
Coaxlink applications include 3D AOI, flat panel display inspection, print inspection, and in-vehicle video transfer.