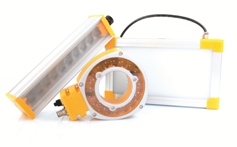 Effilux designs, manufactures and distributes LED lighting for machine vision. During the show, Effilux will introduce its catalogue of flexible and modular products: Effi-Flex, Effi-Backlight, Effi-Lase, and Effi-Ring. Effilux will also exhibit some custom products to show its capability to make bespoke solutions.
Effilux helps its customers to use the right lighting systems for a given application. The company can offer technical feasibility studies in its laboratory in Birmingham, and it can offer free loans.
Effilux is a French company, founded in 2009, and has just opened an office in Birmingham, UK.