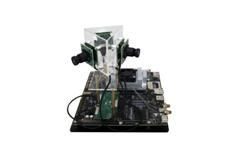 E-con Systems will show its complete range of cameras including the upcoming 4K 360° multi-camera system. The company will demonstrate streaming three 4K cameras using the three four-lane MIPI CSI-2 interfaces on an Nvidia Jetson TX2 processor. The device can support uncompressed image streaming up to 4K resolution at 30ps from all three cameras simultaneously.
The 4K 360° camera system consists of three 13 megapixel four-lane MIPI CSI-2 cameras based on AR1335 CMOS sensors from On Semiconductor. All three cameras are connected to the adaptor board using customised 30cm micro-coaxial cables with connector locks at both ends.
The three cameras can be synchronised for image analysis, which is ideal for 360° camera applications such as surveillance, autonomous vehicles, and drones.