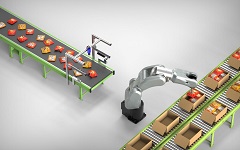 Datalogic's latest bar code readers, mobile computers, vision systems, laser marking equipment and sensors for detection, measurement and safety will feature at the show. 
The need to recognise and identify product attributes beyond a bar code is becoming increasingly important for manufacturing packing processes and logistic operations. 'Barcode and Beyond' is therefore Datalogic's theme at Vision 2016. 
The company will demonstrate two important applications based on pattern recognition, a machine vision tool for object identification. This new tool enables a multitude of image-based applications. Datalogic will also introduce an innovative software tool for fast and robust OCR applications based on the MX-E vision processor.