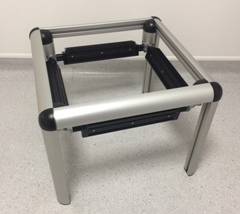 CVR Lighting will be exhibiting its Matrix LED lighting system, which offers tuneable light in wavelengths from 440nm to 970nm. This is an excellent lighting system for hyperspectral imaging.
The ability to image an object in colour adds a new dimension to the data space. Equal to the spatial representation of an object, the intensity of its features in the image is key for analysis. This intensity varies depending on the wavelength of the incident light. Distinguishing between the signals coming from various wavelengths is a complex undertaking.
The Matrix LED lighting system is ideal for applications needing colour or hyperspectral imaging. Matrix illumination is available in configurations offering between 3 and 16 channels, all controllable individually via an RS 485 interface.