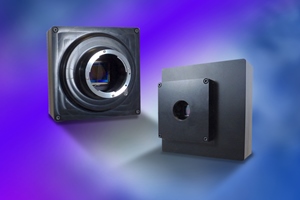 Evaluation kits for two of Canon's latest CMOS image sensors – the 120MXS, a 120-megapixel CMOS sensor; and the 3U5MGXSBA, a 5-megapixel global shutter sensor – will be on display on the Critical Link booth (235).
The kits allow developers to test sensor features and performance to ensure a fit with their application. System designers gain access to assets that accelerate development time, including complete sensor board design files. For applications that require on-board image processing, the evaluation kits feature an open architecture design, with the option to embed processing and software with the on-board CPU and FPGA fabric.
The kits consist of a camera with a pre-installed Canon CMOS sensor, and include: an accessory package for out-of-the-box operation (quick start guide, power supply, compact tripod, cables); embedded software to set up the sensor, acquire image data and communicate over USB 3.1 interface; a PC-based user interface application to communicate with the camera; sensor board design files and source code; and VHDL code for the FPGA.
A third evaluation kit is in development for Canon's 35MMFHDXS_A sensor, a 19μm, 2.76-megapixel sensor with low-light sensitivity. Availability is projected for early 2020.