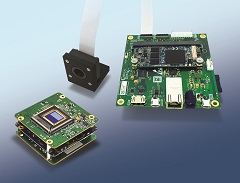 At booth 210 Critical Link will present five embedded imaging demonstrations.
The first is its latest Embedded Vision Development Kit (VDK), which integrates Basler's dart Bcon camera with Critical Link's processor board, interfaces, and onboard FPGA processing. In addition, Basler's Pylon camera software suite completes the kit's functionality.
Critical Link's second demo highlights a new 48 megapixel imaging platform with on-board processing, which features the Ams/Cmosis CMV50000 high speed CMOS sensor, Critical Link's Arria 10 SoC image processing board, HDMI, AIA U3V (USB3.0), Camera Link, and AIA GigE Vision interfaces. The platform's out-of-the-box processing includes bad pixel replacement, two-point pixel correction, image cropping, and up/down scaling. 
The company will also demonstrate a 2 megapixel ultra-low-noise embedded imaging platform with edge detectionthat features superior performance in low-light applications. The BAE/Fairchild Imaging CIS1910 is a 1,920 x 1,080, 6.5µm square pixel, low-noise sCMOS sensor with global and rolling shutter modes, and colour or mono imagery. 
Highlighting some of the company's design capabilities will be a small form factor sensor design, portable imaging device with HDMI and USB2.0 interfaces. It offers video playback and still image capture, including date and time stamps. The device also uses a low-cost Intel/Altera Cyclone V SoC processor and features an image sensor from OmniVision. 
Finally, Critical Link will demonstrate MIPI real-time HD image transmission over extended distances featuring a Sony IMX219 8 megapixel CMOS colour image sensor. The design integrates MIPI, I2C, and HDMI interfaces, with MIPI transmission length of 30 feet. Onboard processing capabilities include functions such as image rotation, colour combining, white balance, auto gain control, defective pixel location and replacement, image overlay, and brightness and contrast, many of which will be demonstrated live.