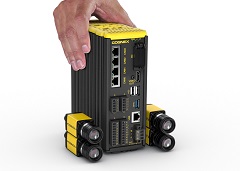 Cognex will showcase its In-Sight VC200 series, a family of multi smart camera vision systems. 
The In-Sight VC200's processing power increases with each additional camera, helping it keep pace with fast production lines while providing the flexibility to solve applications with sequential or asynchronous inspections.
The In-Sight VC200 includes a fully customisable, web-enabled HMI, providing monitoring and control through password-protected access levels. With the In-Sight VC200, operators can now view inspections, controls engineers can modify parameters and plant managers can review performance statistics simultaneously from any iOS-, Android- or Windows-based device with a web browser.
In-Sight VC200 multi-camera applications are easy to set up with the In-Sight Explorer software. The graphical workflow simplifies vision applications by separating the inspection steps into manageable tool blocks. It also provides access to In-Sight vision tools - including PatMax Redline, OCRMax and others - through a familiar spreadsheet interface.