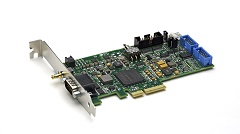 At booth 5714 BitFlow will be exhibiting some of its latest frame grabbers, including the Cyton-CXP4 with four single-link CoaXPress cameras, and the Aon-CXP, a low-cost single-link CoaXPress frame grabber that supports one CXP-6 camera. The Aon-CXP complements the Cyton CXP family for cameras with one to four links while using the same BitFlow cross interface SDK. 
The Axion-CL, Bitflow's sixth generation Camera Link frame grabber that combines the power of CoaXPress with the requirements of Camera Link 2.0, will also be shown.
Lastly, Bitflow's BitBox will be on display, an industrial input/output box driven by high-speed cable connected to a Bitflow frame grabber. The BitBox is compatible with both Bitflow's Axion-CL and Cyton-CXP frame grabbers.