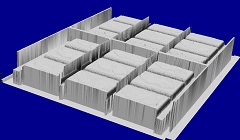 Exhibiting for the 16th time at Vision, image recognition specialist Bi-Ber will present its latest products, focusing on this year's special topic 'Food & Beverage Vision'. Among other innovations, Bi-Ber will demonstrate a new 3D scanning system that contains a laser-profile sensor for mould breakage detection in chocolate moulds.
Using the triangulation method, the scanner detects faulty break-offs on chocolate moulds immediately during manufacture. Even the smallest irregularities – such as chocolate mix splashes – can be distinguished from broken-off plastic pieces. The wear of moulds can also be monitored at very broad scan widths by the use of multiple DS1300 cameras from Cognex. The system can be adapted easily to various applications, can be custom-dimensioned and is geometrically adjustable to any given installation environment.
In addition, Bi-Ber will give a presentation about 3D mould check systems during the Industrial Vision Days of the German Mechanical Engineering Industry Association (VDMA). Look out for the Food & Beverage logo at Vision 2016.