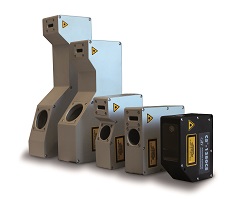 Automation Technology (1F54) will present its IRSX series of smart infrared cameras, designed for industrial use. Designed as an all-in-one solution, the IRSX cameras combine a calibrated thermal imaging sensor with a powerful data processing unit and a variety of industrial interfaces in a small, rugged IP67 housing. The cameras offer various protocols, including GigE Vision, Modbus TCP, HTTPS and FTP.
A comprehensive range of software tools supports the integration and use of the cameras. Standard APIs such as REST, GigE Vision, MQTT and OPC-UA, and a number of application-specific apps are included.
Also on display will be the company's C5-CS series of high-speed 3D sensors. There are four additions to the series, all of which support an output of up to 1,280 points per profile and achieve a frame rate of up to 200kHz. The 3D technology is combined with high-end laser electronics in an IP67 housing.
Finally, the MCS series of high-speed 3D sensors will be shown, where the field of view, resolution and frame rate can be customised.