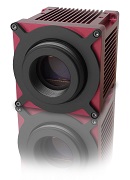 Automation Technology will be presenting the C5-1280-GigE 3D sensor at the show. The device uses laser triangulation to scan objects. It has a resolution of 1,280 x 1,024 pixels and measurement speed of up to 200kHz.
The C5-1280-GigE has a subpixel precision of 1/64 pixel. As a result, the high speed 3D sensor has a dynamic of 512 height values even at its maximal profile rate of 200,000 profiles per second.
The device communicates via Gigabit Ethernet interface and complies with the GigE-Vision and GenICam standard. The HDR-3D functionality (high dynamic range) has also been implemented. This feature enables better scanning of materials and surfaces with inhomogeneous reflection properties. Furthermore, the new C5-sensor supports 3D-scan functions such as automatic AOI-tracking, AOI-search and auto-start.
The C5 sensors have a compact and rugged design and are equipped with M12 tensile- and tear-resistant connectors to ensure power supply as well as a reliable data transfer.