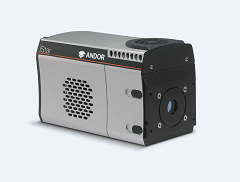 Andor Technolgy will be showcasing the iStar sCMOS, an ultrafast platform for nanosecond time-resolved imaging and spectroscopy. 
The iStar sCMOS features a combination of high frame rates – up to 40fps (4,000 with ROI) – through a USB3 interface, better than 2ns gating, high sensitivity, gen 2 and 3 image intensifiers, and an integrated high resolution triple output digital delay generator. It also offers a dual-frame mode with optical inter-frame down to 100ps for ultrafast flow PIV-type applications.
The iStar sCMOS' high frame rates, high multi-track acquisition rates and dual-frame (PIV-type) capabilities provide a perfect complement to Andor's nanosecond-gated, high-resolution CCD-based family – better suited for less speed-demanding applications.
This innovative platform enables faster characterisation of transient plasma or fluorescence dynamics, Echelle spectrograph-based screening by LIBS or extended multi-track acquisition for hyperspectral imaging. It is also ideally suited for applications such as PLIF imaging for combustion studies.